What Can be Learned From Crises? Western Balkans' EU Enlargement in the Shadows of the Covid-19 Pandemic, the War in Ukraine, and the Energy Crisis.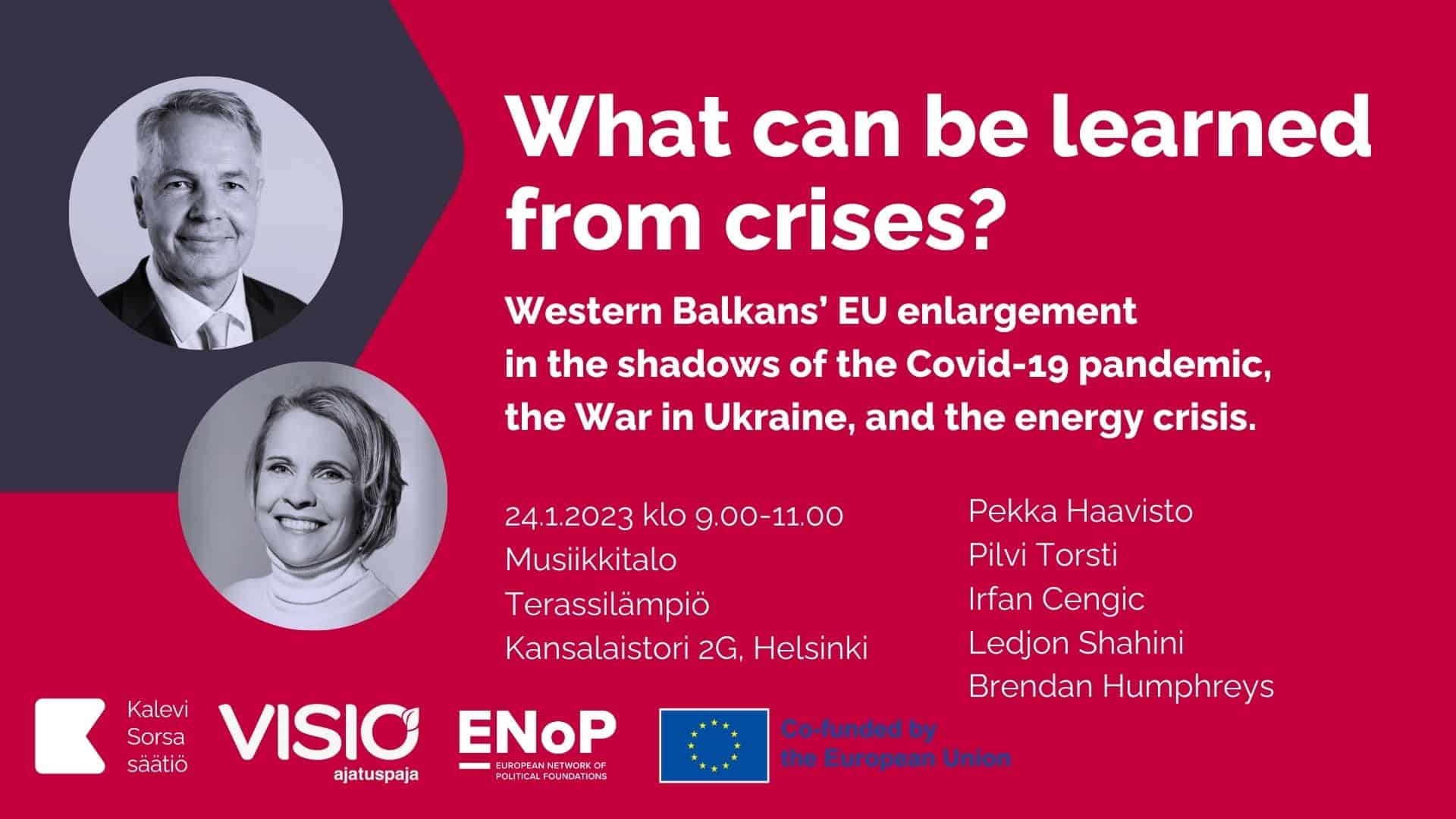 ENoP members Kalevi Sorsa Foundation and Ajatuspaja Visio have the pleasure to invite you to the upcoming discussion:
What can be learned from crises? Western Balkans' EU enlargement in the shadows of the Covid-19 pandemic, the War in Ukraine, and the energy crisis.
Several crises have tested Europe in recent years. All of them have strongly affected the Western Balkans – a region that aspires to join the EU – but has for years been stuck in the waiting room.
After the pandemic and now during the Russian war in Ukraine and the energy crisis, the Western Balkan region appears as a battlefield of power politics, where the EU should take care of its own interests.
The discussion looks at the different implications the crises have had on the Western Balkan countries and especially their EU rapprochement. Moving forward, what have the crises taught us? What has been the EU's role in helping the region and what could be Finland's role in the future?
These and many other questions will be discussed among regional and Finnish politicians, CSO experts, and academia in Musiikkitalo on the 24th of January from 09:00-11:00. The event will discuss the report published by Kalevi Sorsa Foundation and European Network of Political Foundations: Has Covid-19 moved Western Balkan countries closer to or further from the EU.
Program
09:00 Opening
09.05 Ledjon Shahini, Director, Qemal Stafa Foundation Albania: Covid-19-pandemic and the democratic backslide in the Western Balkans
09.20 Brendan Humphreys, Senior Researcher, Aleksanteri Institute: Russian war on Ukraine and regional responses
09.35 Irfan Cengic, MP, House of Peoples, Federation of Bosnia and Herzegovina: Energy crisis and its implications
09.50 Pilvi Torsti, State Secretary: The EU's role and support
10.10 Pekka Haavisto, Minister for Foreign Affairs of Finland: The role of Finland as a member state
10.25 Discussion
10.55 Closing words
The event will be moderated by Jelena Simic from Kalevi Sorsa Foundation.
Venue: Musiikkitalo Lämpiö, Kansalaistori 2G, Helsinki, Finland
Language: English
Streaming: A stream link will be sent to those who have registered.
This event is organised with the support of ENoP as part of its current EU co-funded project "Strengthening ENoP as Actor in Support of Democratic and Pluralistic Societies".